Cowtown Opry Will Forever Miss Don Currie and John Ingram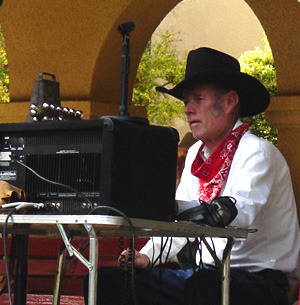 Don Currie

The Cowtown Opry wants to extend our heartfelt sympathy to Kelly Currie, and son Jim, on the May 9th passing of her husband of 49 years, and our own CTO Chairman of the Board, Don Currie. An avid volunteer, Don was known to many, many people in the Fort Worth Stockyards National Historic District, as well as in greater Fort Worth, Tarrant County, and far beyond our 'Texasmost city'. He was a valued volunteer with our cowboy & western music mentoring program, giving of his Sunday afternoons for over a decade, to set up and run our sound system during our weekly shows on the steps of the Livestock Exchange building.

He loved things that go on wheels, and found delight in collecting and renovating antique automobiles and bicycles, eventually founding the Fort Worth Bicycle Collectors Club. Years before his coming to serve with Cowtown Opry, this original owner/operator of Woodway Auto Supply developed a habit of helping wherever he saw a need, from his professional work in developing and supporting the motoring participants of 'The Great Race' as it's technical inspector (a nationwide cross-country antique car rally), or serving as chief operations coordinator for the Pate Swap Meet (held annually at Texas Motor Speedway), in occasionally running sound for services or pitching in to help with building maintenance at the Unity Church of Fort Worth, to his volunteer work in past years as president of the Cowtown Model A Ford Club, the Rotary Club Int'l, and the booster club for Castleberry Elementary School.

On a personal note, Don never made you feel like he didn't have time for you ... you knew how busy he was, but if you had something you needed or needed doing, he'd be there to assist, or he would find it, or he would stay up late to build it - he was a 'go to' guy for us and for so very many others, and he will be missed. They don't make many like you anymore, Don! God Speed.
Devon Dawson, talent coord.
Cowtown Opry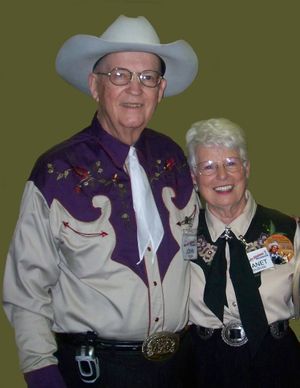 John Ingram and his wife, Janet McBride

On Dec. 22, 2010 Cowtown Opry lost John Ingram, husband of Cowtown Opry Buckaroo Club coordinator, Janet McBride (Ingram), and beloved figure in support of Buckaroos, the group of youngsters being mentored by the organization. Heartbreakingly, he passed away just before Christmas at their home in Forney, Texas.

There was something about John that I instantly loved –I sensed it in his presence and it was strong when he and Janet performed together as well. In reading his posthumous bio below, I am amazed that I never knew these things about him, for he was not given to braggadocio, yet he always lent a jovial air to any gathering. He was a true man, settled in his heart and mind, and glad to live life to the fullest. He was a kind man, but not passive, a funny man, but not crude. He was a loving man, attentive to the needs of others, and a strong man, supportive of the talents of others. Above all, he was a man of faith, so thank you, Lord, for giving us all John Ingram! Below is an excerpt of the memoriam written by Lori Loyd and published by www.neighborsgo.com

"Born July 3, 1931, in Mineola, Texas, Billy John Ingram developed a strong work ethic from an early age. At 12, he worked (in Mineola) at the Select Theatre. Before the U.S. Air Force earned its own branch of the military, Ingram joined the Army Air Corps at age 16 with his mother's signed permission, and served his country for five years. Ingram's professional career ended in retirement from Dallas County, where he served as a deputy for the Dallas County Sheriff 's Department and, in 1985, was appointed to the position chief bailiff of the Dallas County Grand Jury.

As a divorced father of two boys, Gary and John Patrick, Ingram met his future wife, Janet McBride, in 1976 through friends. "I was looking for a good, steady man – one that worked hard during the day and came home every night," McBride said. After praying and enlisting friends' help, she was introduced to Ingram and the rest is history. From that day forward, Ingram had no intention of leaving, McBride said.

Ingram influenced McBride in two major ways. He encouraged her to join the Dallas County Sheriff 's Department as a deputy, which has provided her a dependable retirement. He also encouraged her to return to singing. Her performing at the Grapevine Opry and Stephenville Opry led the couple to become half owners of the Mesquite Opry in 1981, and full owners by 1985, which they operated for 15 years. Ingram became the soundman at the opry through trial by fire. He also was responsible for supplies, the budget, janitorial duties, supervising all building repairs, as well as comedy skits on stage. "I could not have run the opry without him," McBride said.

Furthermore, John was a founding member and deacon of the Country Church held in the Mesquite Opry building and described as a good Christian man. Ingram was also a positive influence on McBride's two teenage boys. "John was probably the reason we both became police officers," said Mark McBride, who was 15 years old when John and Janet married. "He always set a great example - went to church, and did things with dignity." After retiring from Dallas County and selling the opry, the couple settled into a busy retirement of traveling the country and abroad to festivals where they performed, and not always for pay."

This was indeed true! From 1997 to his passing in 2010, Janet and John gave freely of their time to Cowtown Opry, serving on the Board of Directors, supporting our annual gala fundraiser, leading the monthly Buckaroo Club concerts, and hosting many, many youngsters in their home for free lessons in performance of western vocal arts, especially the yodeling instruction that Janet gives. It can't be easy to have struggling young yodelers holding forth in your house hour after hour! But John's unfailing good humor was a real key to this hospitality. Actually, it was in secret this way that John learned to yodel, too, as he was exposed to the arts. Ever practical, he figured that if you can't beat 'em….yodel at 'em! He and Janet worked up a lovely duet to 'Yodel Sweet Molly' that became a fan favorite, and one of my own favorite moments of western music performance always came when John would surprise an audience by bursting out with his 'Tarzan' yodel from the back of the concert hall, as his wife stood onstage singing, "Where Did the Yodel Come From?" I will miss that.

John had a special role in every CTO Board meeting, when he called the motion to adjourn, and we set the time for the next meeting. Though you have adjourned for us for now, John, I sure am lookin' forward to our NEXT meeting. LET'S RIDE!
.
Devon Dawson,  talent coord.
Cowtown Opry